Biometrics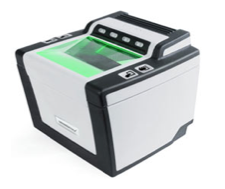 We understand the security concerns of most governmental agencies regarding the entry and exit of immigrants into their national borders. As it is a matter of Homeland security we have responded to those concerns by incorporating Biometric technology IAFIS (Integrated Automated Fingerprint Identification system), as one of our screening tools for the visa application process.
We cannot underscore the importance of a Biometric Identifier and how much of a deterrent it is to anti legislative campaigns and how it ensures matters of National Security.
At Bridge Corporation we offer a distinct range of verification services which includes:
Live and Form based Enrolment systems

All common Biometrics (Face, Fingers, Iris & signatures) are fully supported and integrated in the Biometric Identification System to establish high quality registration without duplicates. Our live enrolment system (LES) is designed for applicants who are unable to appear physically for their biometrics to be captured. For this scenario we have incorporated software into our Biometric System that can enable them to provide their biometrics in real time.
Our form Based System (FBS) is designed for those who are present and can come for their biometrics to be taken.
Why implement Biometrics?
The large movement of people across different geographical borders has meant that, positive identification of everyone is crucial and for National Security. As more interactions take place, electronically, it becomes even more important to have an electronic verification of a person's identity.
The Visitor Management System comes with increased reliability in border security checks as well as reliability in the process of issuing and tracking visas.
The processing time for suspected carriers of fraudulent visas is minimized. This means that a fraudulent transaction is more easily recognized. This also means that the holder of a visa that is suspected to be irregular does not need to wait long for verifications to be made (bearing in mind that a suspected irregular case may have been a false alarm).
Personnel will be able to process large amounts of data without undue stress, thus improving the efficiency of personnel.
Durability of stored data is assured by the application of internationally accepted data protection standards
Interoperability and exchange of information with other systems and organizations will be much more feasible because the system will comply with ICAO guidelines.
Visa fraud, forgery, and Identity theft will be reduced with the implementation of digitalized machine-readable visa stickers.
Loss of revenue from visa fees will be reduced by making it much more difficult for false visas to be produced.